How to clean a dishwasher? Cleaning a dishwasher is an important task to ensure that it continues to function properly and that your dishes come out clean. Here are the steps to clean a dishwasher:
Empty the dishwasher: Make sure there are no dishes or utensils left in the dishwasher.
Remove and clean the dishwasher racks: Take out the racks and clean them with warm, soapy water. Scrub any stubborn stains with a non-abrasive scrubber.
Clean the dishwasher spray arms: The spray arms can become clogged with debris, which can affect the dishwasher's cleaning performance. Use a toothpick or a small brush to remove any debris that may be trapped inside the spray arms.
Clean the dishwasher filter: The filter helps to trap food particles and other debris from the water. Over time, it can become clogged and affect the dishwasher's performance. Remove the filter and wash it with warm, soapy water. Use a toothbrush to scrub any stubborn stains.
Wipe down the dishwasher interior: Use a damp cloth to wipe down the inside of the dishwasher, paying close attention to the door seal, the edges, and any crevices where debris can accumulate.
Run a cleaning cycle: Some dishwashers have a cleaning cycle built-in. If your dishwasher does, run a cleaning cycle using a dishwasher cleaner recommended by the manufacturer.
Wipe down the exterior: Use a damp cloth to wipe down the exterior of the dishwasher, including the control panel and buttons.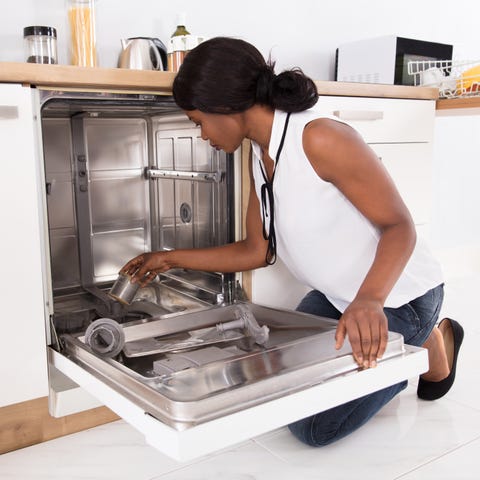 Remember if you want to get your house Sparkling Cleaned without moving a finger, don't hesitate and call Cleany! 
To purchase the best Cleaning products recommended by professionals, go to our Cleany Store!