Summer and spring are nice seasons to spend in your patio, enjoying the weather and enjoying time with your family and friends. It is very important to have a clean yard, but it is often a difficult job, depending on how big or how dirty the yard is. This article will give you some tips on how to clean your patio much easier and faster, that's why we bring you how to clean the patio, in case you don't have time, don't hesitate to give us a call.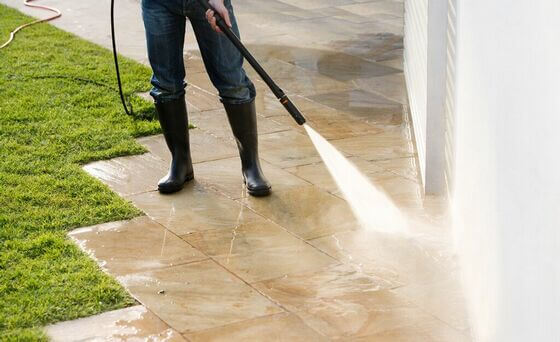 Steps to clean the patio
Fix the clutter in your yard. Remove any items that don't belong there.

Sweep or wash the yard to remove all dirt, debris, and leaves.

Remove weeds. Remove the larger ones and use a kitchen knife to cut the smaller ones. You can also use some chemicals to remove the weeds.

Make a one-cup solution of bleach and pour it into a bucket of water. When the yard is very dirty, use undiluted bleach. If the patio is cleaned casually, use soap.

Clean the entire yard with a stiff-bristled brush. Be careful when using chlorine bleach, because you could kill the grass or plants. If you are using diluted bleach, throw it on the patio and leave it for a few minutes or hours (depending on how dirty it is), come back after a few minutes, and start cleaning. If you are using soap, just throw some soap on your yard, add some water and start cleaning.

Carefully rinse your patio or if you are using undiluted bleach, leave it overnight and rinse the next morning.

Make a mixture of one cup of brown soap or baking soda crystals in a bucket of water and pour it onto your stone patio.[5] Before using any type of soap or detergent, make sure it won't damage your tile, some tiles need a special cleaner.

Rinse the patio carefully – be careful that the soapy water doesn't end up on your lawn or flowers because you could kill them!
Remember if you want to get your house Sparkling Cleaned without moving a finger, don't hesitate and call Cleany! 
To purchase the best Cleaning products recommended by professionals, go to our Cleany Store!